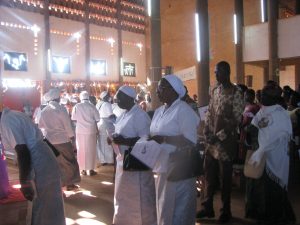 on December 12,2012 in Tougan, Burkina Faso. Nadège Zerbo pronounced her perpetual vows.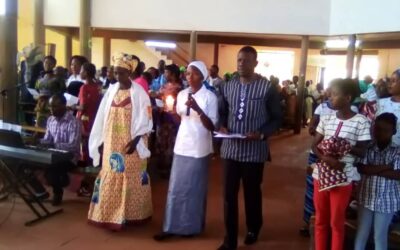 on december 12, 2020 in Tougan, Burkina Faso. Nadège Zerbo pronounced her perpetual vows.
At the end of your good works, give all the glory to our dear Savior, who by his death has truly become the inspiration of your life and of your good works." Maxim # 57
WHO WE ARE
As an international congregation, the Sisters of St. Joseph of Lyon attempt to respond to the spirit of their founder by continuing to dedicate themselves to the exercise of "all of the spiritual and corporal works of mercy of which women are capable and which will most benefit the dear neighbor."
1957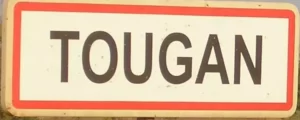 In 1957, many religious congregations respond to Pope Pius XII's encyclical "The Gift of Faith" by sending missionaries throughout Africa.
1959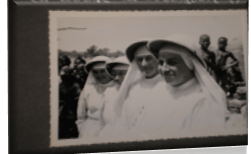 In 1959, the Sisters of St Joseph of Bourg-en-Bresse send four Sisters to Tougan in the Diocese of Nouna, in (Upper Volta) Burkina Faso, and the Sisters of St Joseph of Rodez send Sisters to Tiassale in the Diocese of Yopougon in Ivory Coast.
1961
In 1961, the Sisters of St Joseph of Lyon opened a mission in Zagnanado, diocese of Cotonou in Benin.
The Sisters of St. Joseph of Rodez open a second mission in Willamsville, a section of Abidjan, and a few years later in Bouake, Ivory Coast.
1961
En 1961, les Sœurs de St Joseph de Lyon ouvrirent une mission à Zagnanado, diocèse de Cotonou au Benin.
Les Sœurs de St Joseph de Rodez ouvrirent une seconde mission à Willamsville, section d'Abidjan, et quelques années plus tard à Bouake en Côte d'Ivoire.
1977
In 1977, the Sisters of St. Joseph of Lyon close their mission in Benin. From 1989 to 1999, the Sisters serve in Youtou in the Casamance, Senegal.
1999
In 1999, the West African Region is established. Presently, the Sisters of St. Joseph of Lyon are serving in Burkina Faso, Ivory Coast.
2009
In 2009, we celebrate fifty years of presence in Burkina Faso. We trust that the seed planted so many years ago will continue to bear fruit.
WHERE WE ARE
Burkina Faso – Dedougou, Ouagadougou, Zaba
Ivory Coast – Dimbokro
OUR MINISTRIES:
The Sisters of St. Joseph of Lyon, commit themselves to live the Gospel. As stated in the Constitutions, "…..we are irresistibly drawn by this call of the Father to follow Christ, Servant and Savior, and are sent forth to make his love more visible by a more authentic incarnation of the Gospel in our historical reality."
Sisters are encouraged to use their gifts and talents to serve God's people in various ministries e.g., education, healthcare, spiritual, pastoral and social services.
"Have only one desire throughout your life:

To be and to become what God wants you to be,

In nature, in grace, and in glory,

For time and eternity. "
Maxime73  Jean-Pierre Médaille, SJ.
COLLABORATIVE EFFORTS AMONG SISTERS OF ST. JOSEPH
From 1985, the Sisters of Bourg, Rodez and Lyon worked more closely and even set up inter-congregational communities.   In 1996, Bourg joined Lyon and the following year, Rodez joined the Institute.
Visit of the Tiassalé community (Institut) and our sisters in Dimbokro (Lyon)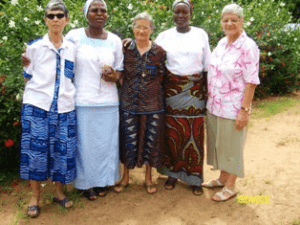 The General or Regional councils of our various congregations have been working together since 1980.  Recently, the congregations of Annecy, the Institute and Lyon worked out a plan for a common novitiate which began in Senegal with 4 Novices in October 2011.
Visite La Communauté de Tiassalé (Institut) et celle de Dimbokro (Lyon)
Depuis 1980, les Conseils généraux et provinciaux travaillent ensemble.  Récemment, les congrégations d'Annecy, l'Institut et Lyon ont élaboré un projet et ont ouvert le premier inter-noviciat qui a débuté en Octobre 2011 à Nianing au Sénégal avec quatre novices.